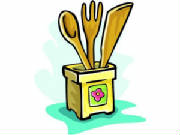 One thing The Cat Who books always have plenty of is food. They talk about food, they sample food and talk about it some more! There are plenty of great recipes in

The Cat Who Cookbook

and you might even find some of them here. So get out your pots and pans and a cup of coffee and enjoy these tasty treats!
If you have a Cat Who recipe you would like to share, please fill out the form below. Thanks and looking forward to hearing from you.
Pasty Recipes and Info
Cat Who Recipes @ Ronald Frobnitz And Family