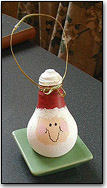 What You Need


Burnt out light bulb
Acrylic (craft) paint in white, red, flesh, black, and pink
Gold cord or ribbon
Hot glue
Black marker
Newspaper or paper towel
Paintbrush
How To Make It
Paint an oval for Santa's face with flesh acrylic paint in the center of the round part of the light bulb.
Paint entire remaining round portion of light bulb with white acrylic paint.
Paint neck of bulb red, and top (socket) of "hat" white. Allow to dry completely.
Using black acrylic paint, dot on two eyes.
Using black marker, draw on smile.
Dip clean paintbrush into pink acrylic paint, dab off excess paint onto newspaper or paper towel. Gently blotch on pink cheeks.
Touch up Santa's beard and hat brim with more white paint.
Hot glue a loop of gold cord or ribbon to the back of the bulb. Craft glue is not recommended as it does not adhere as well as hot glue does.
Hang!